Winco, DWL International Trading, LLC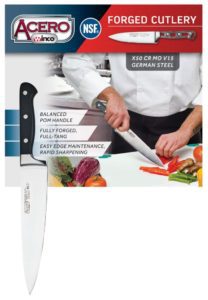 We Are Proud to Announce that WINCO is a Founding Sponsor of the American Master Chef's Order!
Winco is rooted in a passion for the foodservice industry and a dedication to manufacturing the ideal product mix of quality items at affordable prices. For over 25 years, we remain committed to high standards, reliable service and meeting customers' needs.
Foodservice kitchens are extraordinarily busy, fast-paced environments. Tested and used by some of the most demanding chains, our ACERO Forged Cutlery is cutting through to the top and making a difference for food prep operators, offering high-quality and equally high-performing, efficient tools at an incredibly low price!
Constructed of fully forged German steel, ACERO is compliant to NSF® safety standards. Features include a unique POM injection-molded handle for perfect balance, 6-spot advanced polishing for a more comfortable grip, and easy edge maintenance and rapid sharpening.
Visit us at: www.wincous.com