Congratulate our newest CMC, Chef Drew Sayes!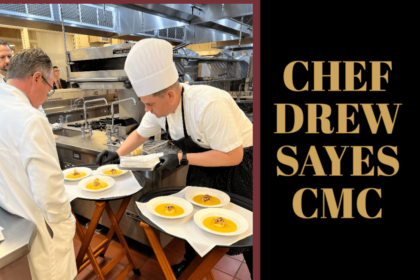 Join us in congratulating our newest CMC, Chef Drew Sayes.
Prior to Walnut Creek, he was executive chef at the four-star four diamond property, Townsend Hotel in Birmingham, Mich. Before joining The Townsend Hotel, he was executive chef at the prestigious Atlanta Athletic Club in Johns Creek, Ga., as well as the Ritz Carlton Hotel Company. During his tenure with Ritz Carlton, Sayes served at various property locations throughout the U.S., including Dearborn, Mich., Marina del Rey, Calif., New Orleans, La. and Buckhead, Ga.
A native of the metro Detroit area, Chef Sayes received his formal training at the Culinary Studies Institute located at Oakland Community College in Farmington Hills, Mich., and further honed his skills through cooking competitions and time working for some of the area's top chefs. In August 2012, Chef Sayes became a Certified Executive Chef through the American Culinary Federation. In March 2015, Sayes was named 2015 American Culinary Federation Central Region Chef of the Year. He is currently a candidate for the Certified Master Chef exam.
Sayes, who has had the privilege of working for some of the luxury dining industry's best American chefs in classic food cities like Los Angeles, Chicago, New Orleans, and Atlanta, brings a focus on local, sustainable, fresh, quality, and most importantly, approachable foods.
"Fine dining doesn't have to mean pretentious dining", Chef Sayes takes pride in serving his guests only the finest quality products from his kitchen. He is an avid supporter of local farms and supporting sustainable practices. He focuses on regional cuisine rooted in French technique with approachable, unpretentious flavors. His approach to cuisine is "sophisticated, not complicated".